Local time

1:18 AM
Joined

Nov 15, 2013
Messages

637

Local time

5:48 PM
Joined

Aug 8, 2006
Messages

2,585
summilux-M 50mm f1,4 ASPH black anodised from 2013
If you don't like that, you have very strange taste. It's really amazing. Enjoy!
Local time

1:18 AM
Joined

Nov 15, 2013
Messages

637
The blue sales brochure is a nice catch!
Yes I was pleased to get that. Good information about the Pen series and amusing typos.

Local time

1:18 AM
Joined

Aug 27, 2019
Messages

2,139
This is a Fuji Instax Wide printer; it's designed to print photos from your smartphone using an app on your phone.
There's also an Instax Mini printer, which uses the Mini film.
A lot of these I've seen in the stores are the Mocha Gray version; I chose to get the Ash White version on Amazon, which cost about $125 instead of the usual $150 when found in stores.
The printer connects to your phone by Bluetooth and lets you select a photo or even multiple photos if you want to create a collage. Not obvious are the image editing controls the app gives you, not only brightness, contrast, saturation, but you can crop, rotate, add text, and many other options.
Among the settings is a choice for natural color or a more vivid color. I chose natural color, but the choice for vivid color might make flowers or other colorful subjects look more realistic and less muted in the print.
It works really well, the image quality is excellent, and it's very easy to go through packs of film printing out your photos.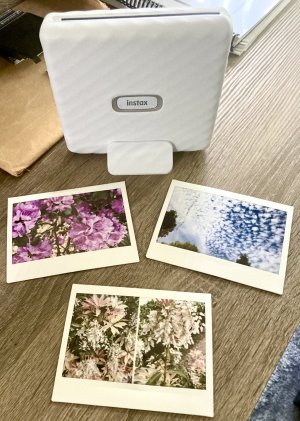 Local time

9:18 AM
Joined

Jul 5, 2006
Messages

3,378
Picked up this little Ic from the London Photographica camera fair on Sunday to act as a rear cap for my 21mm Skopar:

View attachment 4822102

Finished a test roll today but didn't get time to develop it. The shutter is running incredibly smoothly and quietly, so hopefully all is good!
Shutter dial modified to make a cam for shoe mounted flash sync? Looks like it gives you more room to reach the dial with finder in place.
This site uses cookies to help personalise content, tailor your experience and to keep you logged in if you register.
By continuing to use this site, you are consenting to our use of cookies.