The best camera is one that still works!
Local time

2:41 PM
Joined

May 5, 2006
Messages

18,731

Local time

9:41 PM
Joined

Jan 23, 2021
Messages

1,570
We are a seafaring community here in Astoria (Oregon) and the Columbia River sees a lot of traffic. A lot of what leaves is agricultural product, corn, wheat, soybeans and similar. There is also timber. Kelso upriver is where the ag stuff gets loaded and Longview is where the timber gets loaded. Coming in is loads of finished goods. Asian consumer products like electronics and in this case autos. Kind of like a Third World country. I'd like to see more finished goods leaving for overseas sale but no one comes to me to make trade deals.
Today I caught a "Ro-Ro" coming upriver. For those unaccustomed to this term it is for a ship where cars roll on and roll off, car carriers. This one is the Glovis Star, a mighty ship. You will see in the foreground a black boat which carries the Columbia River pilot who will take this ship upriver to its port(s) and back down to this point in Astoria. On the left at the stern of the Glovis Star is the Columbia River Bar pilot boat. This, as is the other, custom built. The yellow bar pilot boat cost $3,000,000 and is owned by the pilots. The river pilots' boat need not be as sturdy, it does not cross the bar, so it may have cost less. They are not cheap; they cannot fail.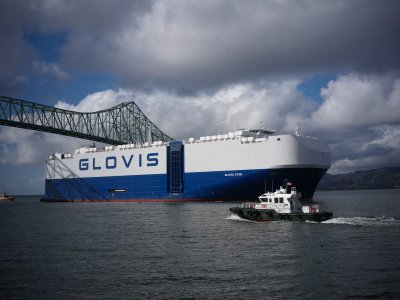 ​
And a little later the river pilot is aboard and the river pilot boat is returning to its river slip while the bar pilot boat approaches to retrieve its pilot. If you want to be insured you will always have a pilot. So the new one comes on board before the old one leaves. What happens on the water is time tested. Maritime law is ancient and precedential. If you want a handle on how things work out on the water, here is the authoritative book:
Chapman Piloting - Wikipedia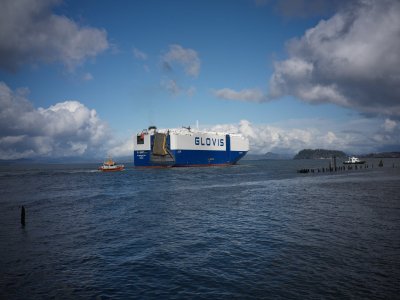 ​
Yes, these two are out of the HB X2D with the XCD 55V lens.
Last edited:
Local time

5:41 AM
Joined

Dec 27, 2003
Messages

8,548
This site uses cookies to help personalise content, tailor your experience and to keep you logged in if you register.
By continuing to use this site, you are consenting to our use of cookies.