I can't seem to pry this lens loose from my hands, so now I'm leaning towards keeping it. I could ask DAG to code it while he has it. Might as well.
It's focusing about 4 inches behind the focus point. Interesting. I'd say it's most likely that it's out of spec, but there are no guarantees.

Pack it well when you send it, whether that is back to the seller or to DAG. The aperture mechanism is partly plastic and glued together and sensitive to knocks. They are all like that by the way.

Marty
Yes four inches is about right. I tried re-shooting a backyard scene that had come out OOF, this time turning the focus ring to a slightly closer distance, in order to compensate, as Marty described. I moved it in several small increments and then picked the closest guess once I had it up on the monitor.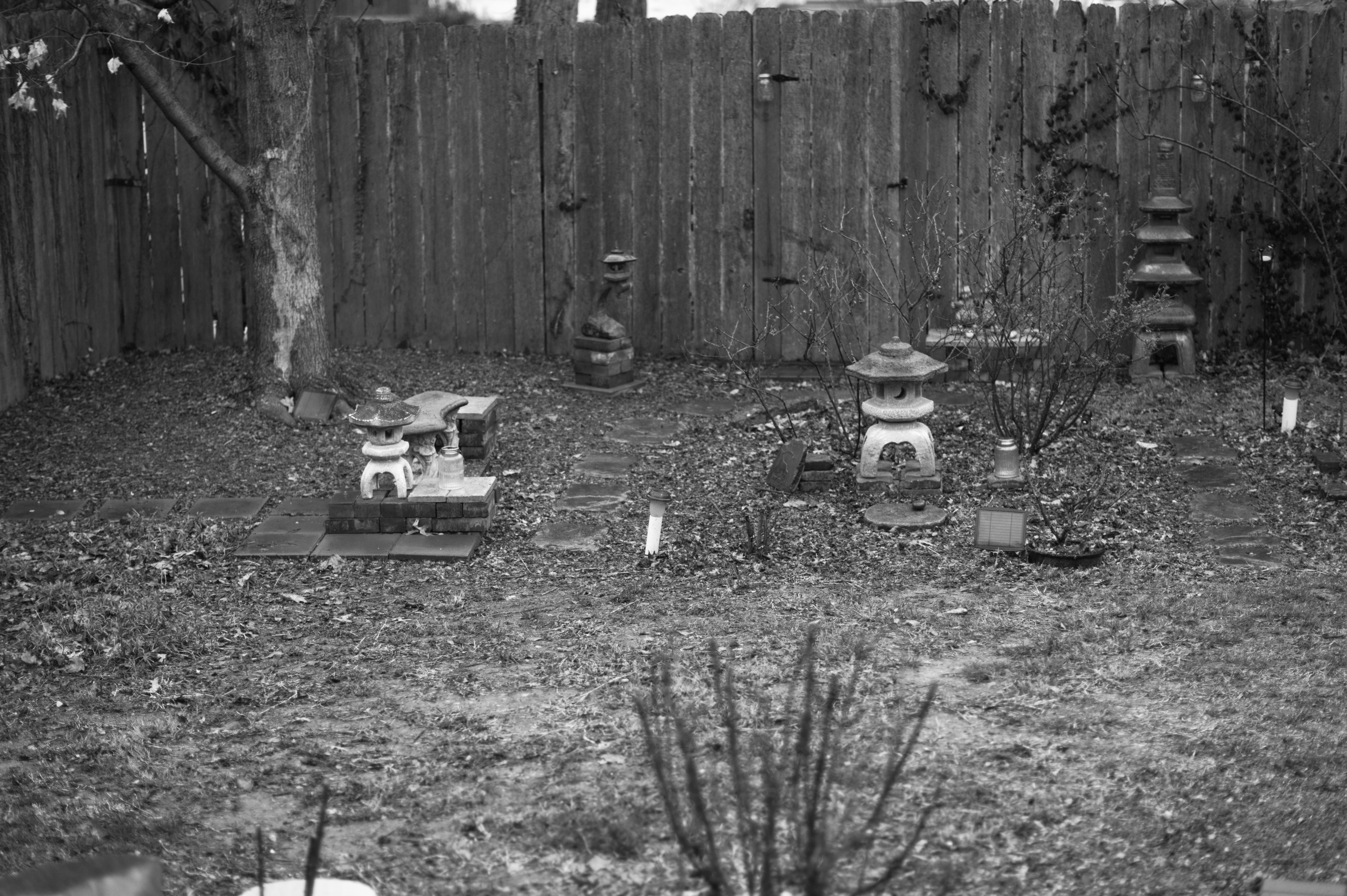 The focus point is the Japanese lantern near center. Looks pretty decent, at least as an experiment, even though not the long-term solution.
Can you post an image of the back of the lens? From what I see online- the first type lens uses a "tongue" type RF Cam, later types uses a rotating indexed cam. The simple fix for back-focus with the tongue type - I use one layer of copper tape, or on a severe case- two layers. I had to do this for the Nokton 50/1.1 and Nokton 35/1.2 V1 that were optimized for the Voigtlander film cameras when using on my M9.

The second test- do the same type focus test over the full range, close-up as you have done, at 5m, and out to 20m. If the back-focus disappears and becomes a front focus, the focal length of the lens is off. If the error is a continuous back-focus, building up the Cam will work.

$400 discount. If the back focus is consistent and repeatable- then the problem should be easily correctable. If it is not repeatable, and varies with distance and the angle that the lens is held- might be a loose optic or sloppy helical. The latter- with the lens on the camera, work the focus and push down on the lens. If the RF image is affected by pushing down slightly on the lens, the helical is worn. I've seen all of these problems affect focus of a lens. 50/1.5 Asph Nokton- focused propery when held level or pointed up. Lost focus when pointed down. One of the inner retaining rings was not properly tightened down. Worn Helical- Leica Elmar, Wartime LTM Sonnar, and Many J-8 and J-3. Vacuum Pump Grease.

On vacation this week- my Daughter is on Spring Break. But will check in...
I will photograph the back of the lens in the morning. I could try the longer-distance test by shooting fence pickets. I can do Five Meters, and maybe 10 Meters. my yard isn't 20 Meters long.
Here'e the photo of the back end of the 75mm Summilux. It's the version II, with collapsible hood.
The Cam in this lens rotates with the focus, and note the cut in the cam, which is a fine-tune for the focus. That most likely needs to be "rotated" to correct the focus. This is a job for DAG, is something he's done for several RFF members.
I don't seem to see a cut in the cam. Where should I be looking? Is it what looks like a slight depression in the surface?
The cam can be rotated? That's great news! I was starting to worry, after another post said these problems are fixed with tape!
Last edited:
I am careful but I use this lens. WOW. 4~5 k $ is a lot of money. I bought the Lux 35/1.4 from the same seller then. Both lenses seem to have appreciated in value. Same applies to the 8 element 35/2 Summicron.
Is the 75mm Summilux going for as high as $5K? Maybe that's for the version 3. I paid about $3000. I'm sure I didn't get that much for the one I had previously, and sold. I thought it was in great shape, although the buyer, I remember, told me the focus was off. He supposed that I might not have shot with it wide open, which is probably right. I only remember using it outdoors in the daylight. So for the 75 Lux to become misadjusted may be a common occurrence.
My lens is then Type III as it states on it Made in Germany. I have not noticed any flaws of any sort on this lens. I have it right now in my camera bag, attached to an M10. The M9 has with it a 35mm/2 Made in China "replica" while the original Summicron is resting.
If it says "Made in Germany" I would think it is type 3, that is consistent with what it says in my reference book. But something to check is the weight: the type 3 was redesigned to make it a little lighter than type 2. my book is upstairs, but if you have a scale I can post the weights for types 2 and 3. Here we go: type 2, 600 grams; type 3, 560 grams.
Last edited:
Cachet of Made in Germany. The German manufactured lenses were the last productions and 40 grams lighter. 11810 should be clearly engraved into the black anodized lens body; no white paint fill.
Even for a Mandler-designed lens? Is there no special cachet for "Made in Canada" even for a Mandler lens made in canada during the time Mandler was there?
And is it possible that 40 grams (1.4 ounces) is worth another 1,000 or 2,000 to Leica enthusiasts?
Apparently anything can happen, once a Leica item becomes collectible!
This site uses cookies to help personalise content, tailor your experience and to keep you logged in if you register.
By continuing to use this site, you are consenting to our use of cookies.