Local time

10:49 PM
Joined

Aug 27, 2019
Messages

2,018
Okay, one of them is cheating.
OK, the big guy on the right is a Pentax K-something full-frame because only Pentax has the special Sv (sensitivity priority) and TAv (shutter and aperture priority
[*]). The small guy on the left with the interesting controls - I have no idea. Some micro-4/3 I think.
.
​​​​.
[*] you choose fixed shutter and aperture setting and the camera will adjust ISO to get the right exposure.

Local time

10:49 PM
Joined

Aug 27, 2019
Messages

2,018
Another MF-23 multifunction control back for an F4s. I now have two F4s's with these backs.
What do I use them for? Primarily for imprinting exposure information between the frames. I love that feature. I've also used it in "focus capture" mode, whereby the camera is stationary and pointed at some region and the shutter trips when an object enters that region and comes into focus (think of birds landing on a branch, for example).
The MF-23 has other functions such as delays, an intervalometer, and much more. Read about it here near the lower half of the page:
https://mir.com.my/rb/photography/hardwares/classics/nikonf4/filmbacks/index.htm#MF23
Also, my new-to-me XD-11 courtesy of RFF member Bingley: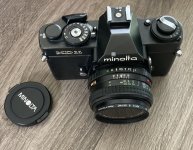 Local time

6:49 AM
Joined

Dec 27, 2003
Messages

8,548
This site uses cookies to help personalise content, tailor your experience and to keep you logged in if you register.
By continuing to use this site, you are consenting to our use of cookies.