1972: is it a Jupiter-8 or a Jupiter-8M? The construction of the J-8M is different and not compatible with the LTM J-8.

The barrel is a larger diameter- and will not fit into a J-8 LTM mount. It 's closer in size to a Canon 50/1.8.

What about just changing the lens groups, would they fit, and would they collimate?
No- the optics are different diameter and shape.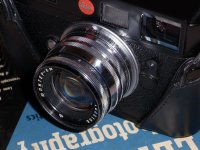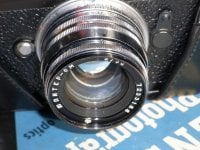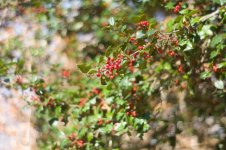 I like mine, 1972 J-8M converted to RF coupled LTM mount using a Canon 50/1.8. Great job - the Ebay Seller made 3 of these. I paid $50 for this, would not sell it for anywhere near that.
The J-8M has larger diameter optics compared with the J-8. Click Stops. Those made after 1970 or so use a new formula compared to the earlier lenses. The early ones- all the ones I owned were terrible. The later ones- very, very good.

Helios-103: Used to go for $10. On mine- I blackened the Aperture blades, reduced flare "a lot".
I still prefer the Sonnar formula J-3 and J-3 over the Helios-103 and Menopta 53/1.8. I modified the latter for use on Nikon S-Mount.
This site uses cookies to help personalise content, tailor your experience and to keep you logged in if you register.
By continuing to use this site, you are consenting to our use of cookies.