A few days ago I was fortunate to pick up a cheap, filthy Contax IIIA with a beautiful Carl Zeiss Sonnar 50mm f1.5 lens, a lens I have been hoping to acquire for a while. But there's fungus on the rear element adjacent to the aperture blades. I'm looking for advice or instructions on dismantling to clean this. The rest of the glass surfaces appear to be excellent. With current CLA prices I'm reluctant to send this away.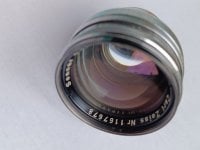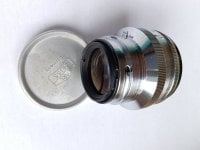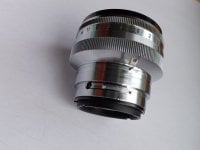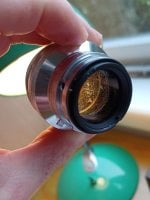 The U shaped groove is to align the barrel against the pin.





It is easiest to remove the rear retaining ring starting with the inner set. As this unscrews, the outer ring comes off with it. Once the outer ring starts out, you can grab it- or use a rubber mat to grab it and finish unscrewing.



The rear triplet comes out as a module.
Thank you Brian. I have removed the barrel successfully and outer retaining ring, along with the middle variable ring. My inner retaining ring looks a little different to yours. I can use a lens spanner to rotate it, but it doesn't seem to unscrew at all: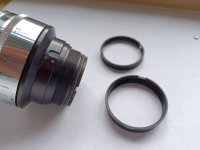 The threads of the innermost barrel will spin once the ring that surrounds it is off. Mike Elek mentioned this. Try using a suction cup on the glass to pull it out.
Success! The suction cup didn't work but I found I could gently work it from side to side with my fingernails on the outside edge and slowly pry it off.
Brian, would it be correct that this lens has hard inner coatings so I should be fairly safe cleaning the inner surfaces?
Also, I see you and Mike Elek mention the variable ring, for precise collimation. I will need to collimate the lens on re-assmbly, is that correct?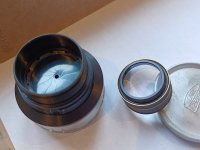 It's back together now and looking great. A couple of spots turned out to be Zeiss bubbles. Ironically now that the rear group is clean, I can see there's some haze behind the front element.... a job for next weekend perhaps. Thank you Brian and Dexdog for the guidance!
Those aperture blades are a work of art: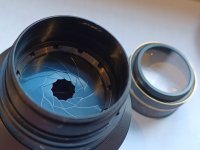 Cleaned rear group: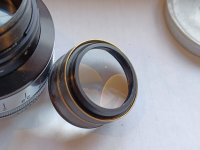 Lens reassembled and looking superb: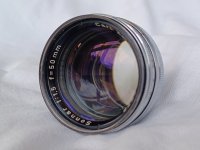 Well I have in fact encountered an issue. Tightening the final retaining ring also tightens the aperture adjustment so it can't turn anymore.... something is not quite right
Barrel out of mount. The ring in the center is the variable ring, used for stand-off with the barrel in the mount.
OK I now understand this part. Obviously I had tightened the middle variable ring as I was working on the lens. Once I loosened it off a little I was able to tighten the retaining ring for the barrel without impacting the aperture ring anymore. Thanks again Sonnar Brian, problem sorted.
This site uses cookies to help personalise content, tailor your experience and to keep you logged in if you register.
By continuing to use this site, you are consenting to our use of cookies.