So I've noticed that the past two nights worth of prints all have small blue stains on the back of them. I am printing on fiber paper and using a community darkroom. I have noticed this issue once before and it was happening with RC paper.
Is this a sign of improper washing? I am washing the print for around 5-10 minutes, then 10 minutes in a hypo clear, then another 30-45 minutes in a print washer.
This doesn't happen all the time so I'm not convinced it is my washing technique. I'm starting to believe that a few of the drying screens have not been totally cleaned of the cyanotype chemicals that one of the other darkroom member uses. I have no clue what chemicals are actually used in cyanotype but I know that the print is blue, so that's where my assumption is coming from.
What does an improperly washed fiber print tend to look like?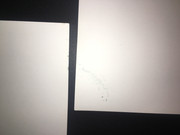 this is an example of the blue stains. When I look closely I am able to see the pattern from the drying screen which is what makes me believe it's a chemical that has been left on there.