I've used both professional grade medium format cameras - and - MF folders. Even with the advances in digital cameras, I still have a Fuji GW 690 III and a slew of medium format folders.
I'll start with the Voightlander Perkeo, which I've have had good luck in getting a keeper. There is always room for a Perkeo in a backpack and three rolls of film. Mine is a Perkeo II. I like the automatic frame stop feature when winding. I've never really given much thought as to whether or not the front standard is perfectly aligned with the film plane.
Does the Skopar lens have the same resolution of a EBC Fujinon or the Zeiss lens on a Hasselblad? Probably not, but I don't really care - because the Perkeo II fits in the front pocket of my Dockers or Cabelas cargo pants.
The story of the repair person mentioned by ozmoose leads me to my next fortunate find - which was local. A few years back I picked up an Ikonta 524/2 with a 3.5 Tessar from someone who is in my age group and was selling her Dads possessions .
I call it the beast. It's not really pocketable. I also own a Bessa II, which also isn't small and not really pocketable either. The left handed film winder, lack of an automatic film wind stop and left hand shutter release really slow me down - but with only 8 frames per roll, maybe slow is good.
As mentioned, the 524/2 is a slow motion kind of camera. The RF is uncoupled and the film advance is via viewing a red window on the back of the camera. Not exactly the ideal camera for Basketball or Hockey - but you know what, at f5.6 or f8, I'd pit this particular coated Tessar against the Fujinon on my Fuji, (at least close enough for hand-held work using Tri-X).
By the way, the rangefinder isn't too shabby with its 1:1 magnification and a base length between the two windows that is wider than the RF on my big Fuji. The front standard when erected has a solid click.
The second photo is a crop of the first.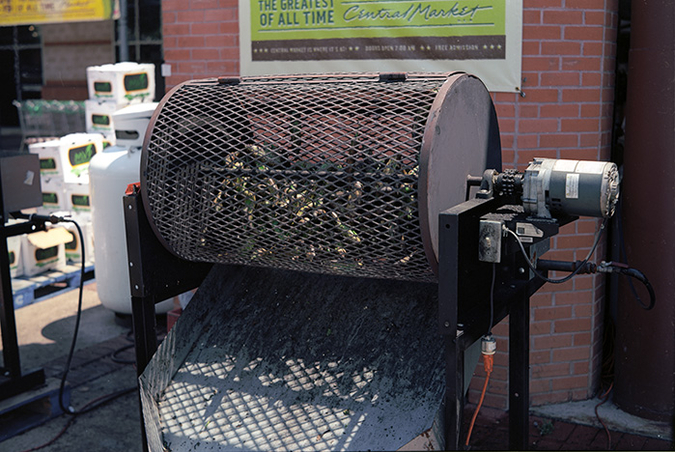 There's a manufacturers label by the switch