http://www.huffingtonpost.com/artinf..._b_863555.html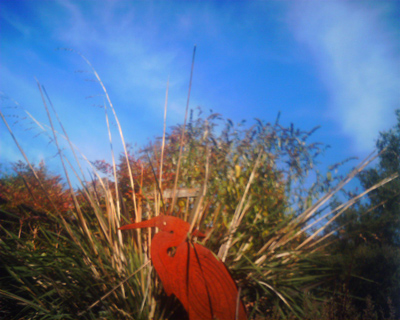 Cooper is drawn to bird-as-lawn-ornament subject matter. / Courtesy Cooper: The Photographer Cat
During the past three years of his fur-tuitous career, Cooper has churned out a veritable cat-alogue raisonné of photos taken on weekly jaunts around the neighborhood, during which he pussyfoots through brambles, along fence-tops, and under cars armed with a camera collar that snaps shots every two minutes. Indeed, the super-pet and his "human affiliates,"
Michael and Deirdre Cross
-- who lucked out in adopting a certain talented stray in 2005 -- are now basically just lapping up the phenomenal success of the cat artist. For Cooper's no untalented tabby -- he's a regular Henri Catier Bresson, Eadweard Meowbridge, or Catget, you might say.
As revealed in the "Best of the CAT CAM" album on Facebook, Cooper's photos are vernacular visions of the feline artist's environs, captured in saturated, sunny colors -- Cooper rarely ventures out in inclement weather -- that have an air of
William Eggleston
about them. One work, titled "Risqué," takes a saucy look up a lady's skirt, while others present ominous close-ups of Cooper's (human) baby brother,
Cameron
, who slumbers peacefully as his rival for the Cross' affection stalks ever closer... until he hovers only a whisker away. As a stylistic flourish, the photographer cat has turned a defect in his camera into something of a signature: all of his pictures are dated July 2006.