I dropped this into an old thread, and a couple people were interested in more details. Instead of continuing with the old thread that is on a different subject, it seemed appropriate to start something new.
So love it, hate it, or think it's a complete waste of time... Here is my prototype digital Rolleicord: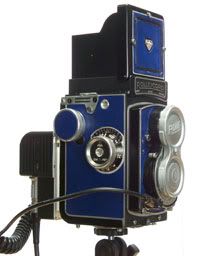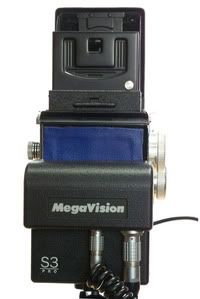 Built on a Rolleicord V and a Megavision S3 6mp back. While the S3 is pretty old and low resolution by today's standards, it has one important feature... All the mounting holes are the same as the newer Megavision E series backs, which go up to 39mp. Now if I was a rich man, this would of course be a higher resolution back, probably the 16mp E4 square sensor. But I'm doing this out of "pocket" money, so unless someone at Megavision sees a value in this project, it will be a one of a kind. The E4 suggested price is $13,000, you can see my problem with getting a newer sensor.
These newer backs all tether from a firewire cable, but there are portable solutions that are smaller than a laptop. Megavision chose to team up with the OQO computer. I'm not too terribly fond of that solution, so if I ever move up to one of those backs, I'll probably build my own small portable computer. The older S series backs use a proprietary portable solution that Megavision calls the Batpac.
I also mentioned the possible next project in the other thread, and that one might be of more interest here:
Next up will be a Mamiya 7.
It needs some repair before I can even start on fabricating the mounts, and to do that, I need to buy a lens. The camera was cheap, but I'm finding the lenses to be anything but cheap. But this is still the inexpensive part. The Mamiya 7 due to it's 6x7 format only has two real choices for digital, the 40x50mm 22mp and 39mp backs. Obviously I won't be using those for design and testing (unless I win a lottery). Those probably go for well over $20,000, so I don't know too many people that will be interested. And then when you factor in the crop, suddenly that 65mm wide angle lens is only slightly wider than a "normal" lens.